Due to its long pebble and sandy beaches and a large number of sunny hours, the Makarska Riviera is perfect for enjoying the benefits of summer. Along with the largest city of Makarska, small tourist resorts scattered along the coast such as Brela, Baska Voda, Igrane or Tucepi, are favorite destinations among families with children and everyone looking for their place under the summer sun. However, the Makarska Riviera hides on its shores beautiful nudist and secluded beaches.
NUGAL BEACH

Nugal beach not far from Tučepi, has been a popular destination for all guests who like to swim without a single cloth for more than thirty years. Like most nudist beaches, Nugal is a little further from "civilization". It is necessary to walk 30 minutes through the forest Osejava, which connects Makarska and Tucepi. Due to the uneven terrain, we recommend that you do not walk in flip-flops but wear sneakers. The beach is surrounded by high rocks that make it even more beautiful, and also protect visitors from unwanted views. Don't forget to bring food and drinks, and apply a lot of sunscreen because there is no shade on Nugal beach.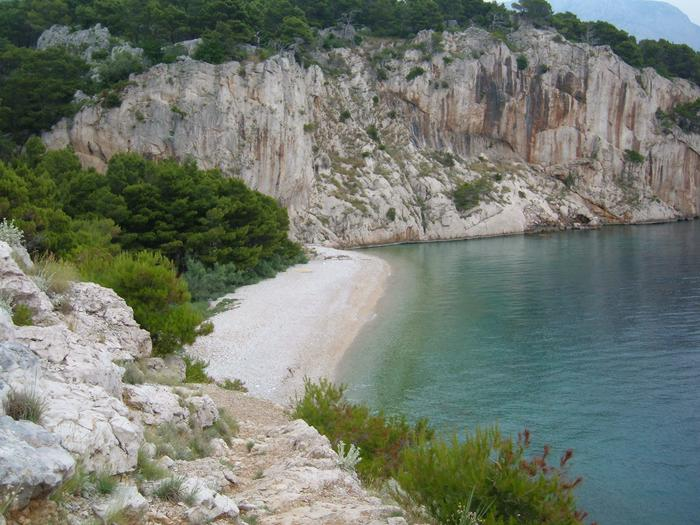 PUNTA RATA BEACH
The most beautiful beach in Europe in 2004, Punta Rata beach is also on our list of the most beautiful beaches on the Makarska Riviera. Puta rata is a pebble beach with a sandy entrance to the sea. Due to the sandy entrance to the sea, it is suitable for families with children. It is surrounded by fragrant pine trees that provide thick shade when visitors want to get away from the strong summer sun. The beach is further enhanced by an unusual round rock that emerges from the sea, which has become a recognizable symbol.
Punta Rata Beach has beach bars, restaurants with fish and meat menus, and sun loungers and parasols can be rented..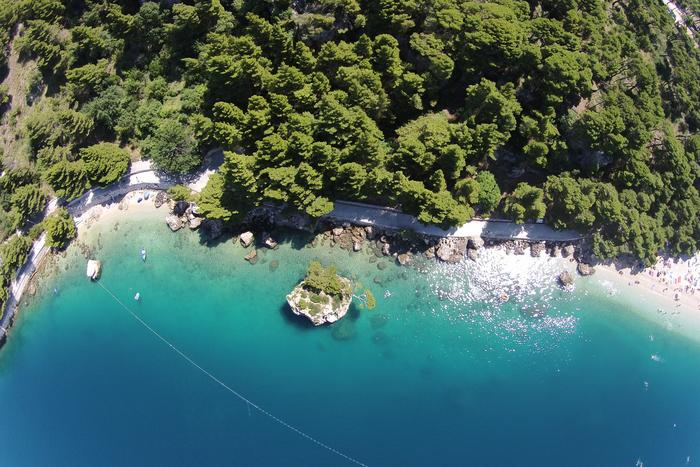 TUČEPI BEACH

The longest beach on the Makarska Riviera is located in the tourist resort Tucepi, 7 kilometers away from Makarska. Tucepi beach is as long as four kilometers, and next to it there is a promenade decorated with planted pines and tamarisk trees. The beach is popular with families with children: it is made of fine pebbles, tamarisk trees provide thick shade, and there is plenty of facilities for children such as pedal boats or water slides. Parents can relax in one of the cafés, in rented sun loungers available on the beach or on an easy walk with the children on the promenade by the beach.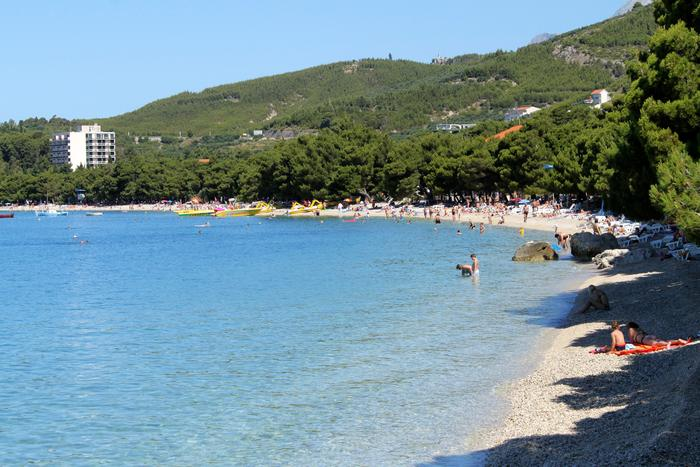 NIKOLINA BEACH

One of the most popular beaches on the Makarska Riviera, Nikolina beach, is located in Baška Voda. The Blue Flag proudly flies on it, which is a sign of the extraordinary quality and purity of the sea. The beach is ideal for families with children because it has a lot of facilities (cafes, restaurants, pedal boats, the possibility of renting deck chairs and umbrellas). A big plus is that on the beach there are also two entrances to the sea for people with disabilities.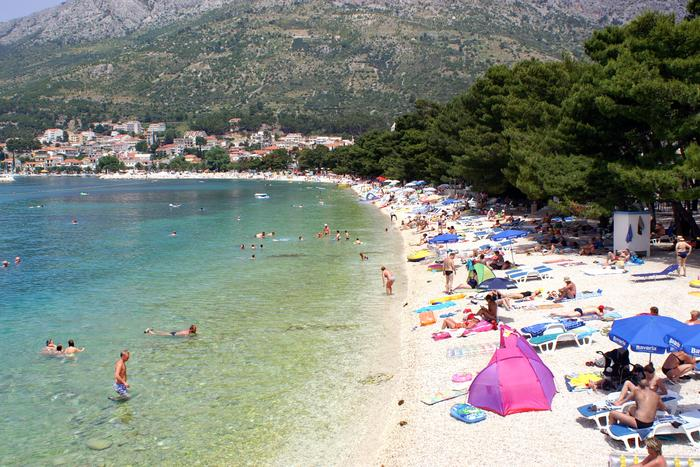 DONJA LUKA BEACH

Donja Luka beach is located in the center of Makarska. This popular pebble beach is several kilometers long and is popular among various visitor profiles. There is a lot of content on the beach that will provide all-day entertainment for children and young people - pedal boats, water slides and even the possibility of bungee jumping. After having fun in the sea, visitors can hide from the heat under the fragrant pine trees. In addition to entertainment, the beach has toilets and showers, restaurants and cafes. And this beach boasts an entrance to the sea for people with disabilities.